Sneak-a-peak Planet Exotica slot review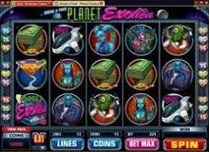 Sneak-a-Peek Planet Exotica is an incredible slot from Microgaming is set in an alien strip club. Yes, you heard. An alien strip club! Phwoooar! Get your tentacle-like-things out for the lads!
Sneak-a-peek –Planet Exotica slot, introduces us to the universe's sexiest strippers Tandy, Lumeena, Sooki, Meduna and Asherah.
Jackpot
There's a 1,000,000 coin jackpot to be won in this strip club! It'd make a nice change for me just to leave one with enough in my pocket for my bus fare home!
Free spins in Sneak-a-Peek Planet Exotica
The game features free spins – up to 20 which can be retriggered each with a 2x multiplier. The multipliers and spins can be added to if the last two reels contain a lip gloss (who thought this thing up?) The slot bonus game is called Select-A-Smooch get this icon on reel one and an alien stripper on the last reel to enter the game. It's into an alien-perv mode in the bonus game where you must attempt to disrobe the extraterrestrial tarts while trying to avoid the bouncers. Sounds like a Wednesday night out in Shoreditch. For all the mentalist ideas this game is actually really fun to play and the variance is such that it will keep you playing while you hunt the bonuses and free spins. And in answer to your question…Definitely Sooki for me!
Watch us play Sneak-a-Peek Planet Exotica and other slots live on stream through the following channels:
SlotMad Streaming Page
SlotMad Twitch Channel
Youtube Channel
Have we peaked you interest in more reviews? Check out the following reviews:
Daily Jackpot Games from Red Tiger Gaming