Sopranos Online Slot Review
Playtech have joined the Gangster-theme bandwagon with this slot based on the Sopranos TV series.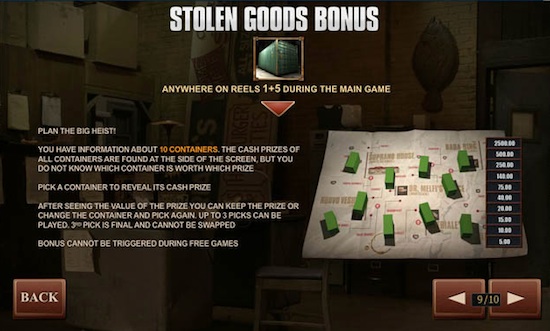 Stolen Goods Bonus
The stolen goods bonus is started when you get the symbols on the first and fifth reel. It's quite nicely done and the rewards are not that high compared to bet amount so it's something you'll see very often. The video sequences here are excellent and you see a different one for each pick. You have 10 options to select and three choices. You can choose to take the first or second cash value offered or to pick again. On the third pick you'll automatically be awarded the cash prize. There's a list of prizes but don't be fooled into thinking that each one has the same odds of appearing. My advice? If you get more than 4 places up the cash table take that offer, it's rare you'll get more.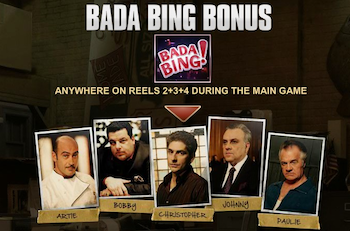 Bada Bing Bonus
This one is triggered by Badda Bing symbolds landing on reels 2, 3 and 4. Choose from Artie, Bobby, Chris, Johnny and Paulie. Your choice of character will result in a movie clip where they meet with Tony Soprano. Each clip will result in a cash bonus. This is the bonus you really want as the prizes are higher than in the others. I've had little luck with Chris and good runs with Artie but that may be random.
Raid Bonus
This bonus feature triggers at random. In this feature you will be shown four potential hideouts and given four envelopes each containing twice your stake. One envelope will be placed in each hideout and then the cops move in, for each hideout they fail to find you'll win the cash in the envelope.

Free games:
Three or more The Sopranos symbol scatters will trigger the Crime Family Free Games (free spins).
There are four different modes available for the free spins feature. These opens up by filling up the grids under each mode (similar to Thunderstruck 2 or Immortal Romance from Microgaming).
25 free spins with extra wilds.
20 free games with a dynamic multiplier on wins (2x – 5x win)
10 free spins from the Boss mode each with between 2 to 5 random extra wilds If you land a wild symbols in the centre of the 3rd reel, you will receive an extra 5 free spins.
10 spins from the Family Mode but it includes only Wild, Scatter and Family symbols so you're going to get some big wins.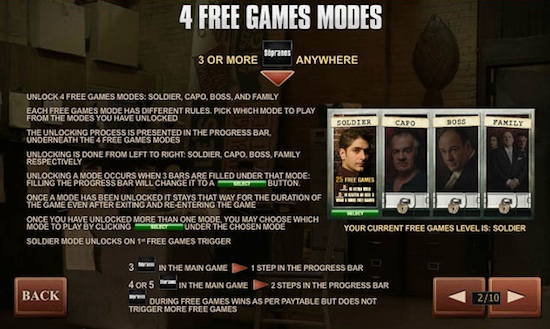 I'd advise you to go with the Boss mode if you're looking for gameplay and guaranteed rewards, if you like a gamble though then the Family Mode is the one to choose. Overall this is a great game Playtech have done well here and really shown the likes of NetEnt (who made Scarface) how to do a gangster slot.
Watch us play The Sopranos and other slots live on stream through the following channels:
SlotMad Streaming Page
SlotMad Twitch Channel
Youtube Channel
Have we peaked you interest in more reviews. Check out the following games:
Itching for a bit of a gamble? Try out this slot at one of these casinos: