Super Nudge 6000 – Classic Slot Review
It's a classic slot, sort of…
I'm not a big fan of classic slots so I was surprised that I liked this one so much – BUT – there is a big twist.
This slot has nudges. I know, I know, I can almost hear you yawning, but bear with me.
If you've ever played Jackpot 6000 then you'll understand the mechanics behind this.
You play standard reels slots in the main game and then when you win you can choose to move cash into the supermeter game at the top of the slot.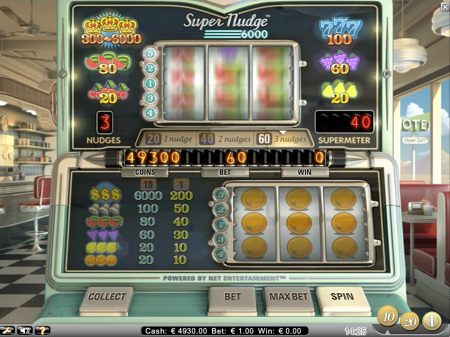 The supermeter game pays more, more often. Unlike most slots there's a strategy that can be developed on this to increase your chances of winning.
With Super Nudge 6000 they've introduced nudges to the supermeter game.
The great thing is that if you get a win and get say 3 nudges, the nudges will stay active for as long as you're in the supermeter game – so every spin can be nudged 3 times – you can do a lot with three nudges, three reels and only a few symbols.
Super Nudge 6000 release video
I'm not sure they've got the maths right on this game as I won and won and won. Which anyone who reads this site will know is very rare!
Give it a few spins – before they take it down and fix the maths…
Watch us play this and other slots live on stream through the following channels:
SlotMad Streaming Page
SlotMad Twitch Channel
Youtube Channel
Have we peaked you interest in more reviews? Check out the following games: