The Forgotten Land of Lemuria – Microgaming Slot Review
The theme of this new slot will be very familiar to fans of the band KLF or those of you with a penchant for the esoteric.
Lemuria (or Mu) was a vast continent which, some say, existed for eons and was technologically advanced but which perished in a natural disaster of epic proportions.
It spawned the legend of Atlantis as well as some bloody good books and the aforementioned hit from the KLF feat: Tammy Wynette (watch the video of Justified and Ancient on Youtube it's a corker).
Anyway onto the slot…
It's been released by Microgaming under license from genesis Gaming and it fits nicely into their portfolio of slots.
It's a 243-way (all lines pay) slot similar to Thunderstruck 2 or Immortal Romance.
Here's what the press release says about the game
THE FORGOTTEN LAND OF LEMURIA is brilliantly crafted in a style as mystical as
the legend. With celestial symbols and an ethereal bonus feature, you will be able
to capture the buried wealth of this long lost civilization.
Ha Ha. What a load of nonsense that is, I love over the top press releases.
You definitely will not be able to capture the buried wealth of Atlantis, unless the entire civilization was worth a few grand of course, and they had MUMU Neteller to pay you with.
Still, it is quite a good game.
Fairly standard in normal play it has a selection of treasure Vaults in the bonus game.
Bonus game:
A nice bonus game even if it is simply a choose a box style feature…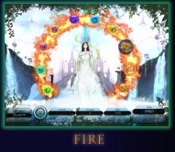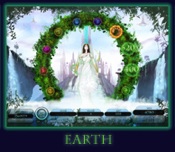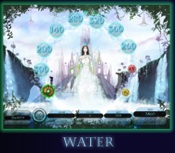 First you will enter the the Water Treasure Vault where you will find ten orbs, choose from the orbs and you'll be rewarded with
coins, you can then progress through the Earth treasure Vault bonus round and finally onto the Fire vault.
In the Fire vault you will either find coins or the feature will end.

Payout:
It's not a massive jackpot game – your biggest single win is around €6000. However, it does hit quite often and the overall payout (return to player) is up above 95%
The music's nice, I love the theme and it plays well. Go and find out for yourself.
You can play this at selected Microgaming Casinos when they release it to their casinos in the meantime it's live at.
We're always playing games on our SlotMad daily slot streams – you can find out more and join in the fun via