Thief slot from Net Entertainment
I'm usually a lot quicker releasing reviews but then I always want to play the games for real and experience all of their features a couple of times before writing a review. In this case it took so long and so much money to get to that point I'm days late. Thief? You're not wrong!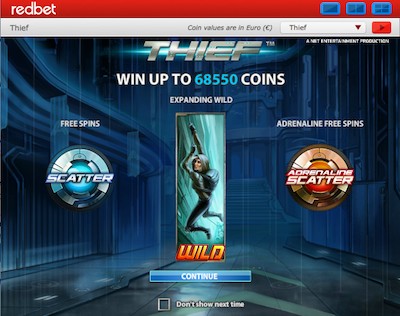 OK to be fair just because I had a bad run doesn't make this a bad slot, I know a lot of players have hit big in the past couple of days too. The game seems to be medium – high variance. You may play for a while before a win but there are big wins to be had. I like this type of slot (usually anyway). Much less boring and you can have a lucky streak on a low deposit sometimes.
The game looks and feels quite nice. It's set in the future, the biggest indication that it's set in the future is the gloom and the miserable weather. Why is it always bloody raining in the future Anyway, it looks nice on the whole, what the heck are those symbols though? There's a golden grappling hook gun (OK we've all got one of those). Then there's a green tube thingy that I'm sure comes in very handy for a thief. They also have a blue ice pack looking item that is no doubt useful if, erm, if… well I'm fu*ked if I know. I know that the extremely flashy pink Stargate watch will be invaluable to a burglar though. It lights up so you won't need to employ your triple-torch headset in order to see what time it is.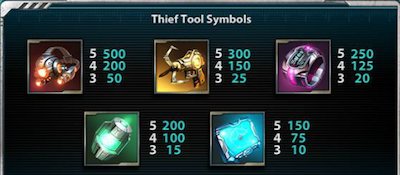 Anyway the game's afoot. Somehow the Thief Online Slot manages to feel like Secret Code and Crime Scene but I haven't played it quite enough for the significance of that similarity to hit me beyond the Wilds expanding on the middle three reels. Wait….
Hold the press and bring on the dancing horses! I just hit the scatters in Thief!
OK I got three adrenaline scatters. The Adrenaline scatters differ from the normal scatters in that they offer an extra symbol, the Diamond Symbol. 5 of these on a line will get you 5000 coins. The sounds and graphics are also intensified to add some excitement to an Adrenaline round. I'm on a 1.25 euro bet and I've won…. well, 345 euros from that. Very nice. Something to note here, in the advanced setting you can select the usual "stop if free spins are won" but this one also has a "stop if adrenaline free spins are won. I almost missed those while enjoying one of my special relaxation cigarettes…
That's the thing about this type of slot, I'm down 250 without a sniff and within seconds I'm up with plenty of bankroll remaining. OK I've played for a while now and I urge you to give this slot some time. It may not be the greatest graphically that NetEnt have produced in a while, but for me this is the best in terms of the general feel and maths. Of course that's a personal thing but give it a try for yourself.
And give it plenty of time.
It's a grower not a show-er!
See the Thief Slot game play video here
Watch us play Thief and other slots live on stream through the following channels:
SlotMad Streaming Page
SlotMad Twitch Channel
Youtube Channel
Have we peaked you interest in more reviews. Check out the following games:
Itching for a bit of a gamble? Try out this slot at one of these casinos:
Play Thief at
200% Bonus + 100 Free Spins

Casino, Live Casino and Sports
Triple your first deposit
No wagering on free spins

Casino Review Claim Bonus

100% Welcome Bonus and 200 Free Spins

Reel Races running every day
Bonus on first 5 deposits
Fair wagering requirement

Casino Review Claim Bonus