Tower Tumble – Relax Gaming – Review and play for free
Tower Tumble is an innovative slot with a host of features.
The game is very nicely constructed, bright graphics and a nice complementary soundtrack give it a much more playful feel than it's elder sibling Temple Tumble.
There's a female Ogre, a Handsome Prince and a lot of potion bottles. All set in a summery meadow, make of that what you will.
Relax usually come up with a back story but I can't find one for this. If I do I'll add it here as they can be quite entertaining.
THE BASE GAME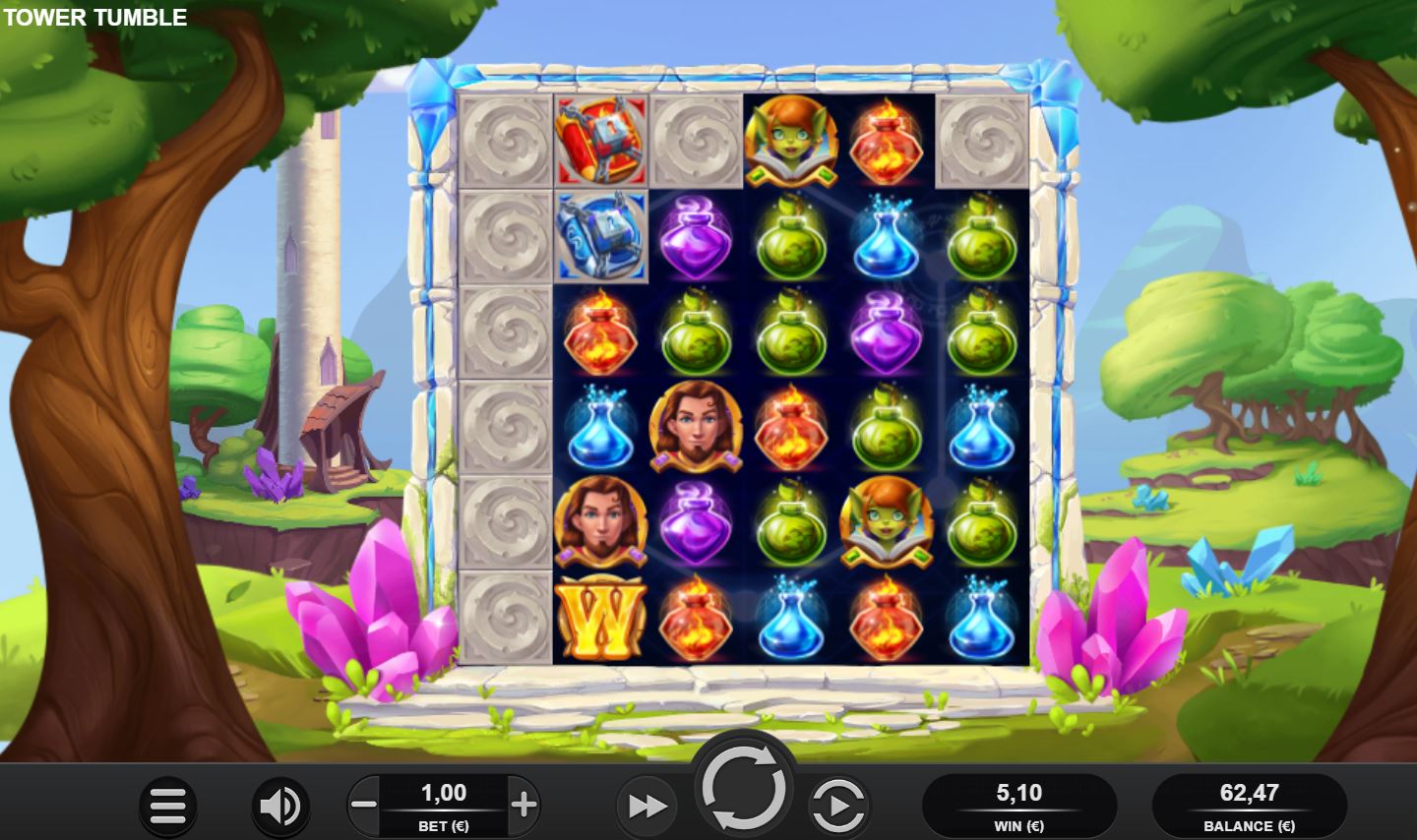 The action takes place on a 6×6 grid and is  a Tumble game as the name suggests.
Tumble reels are often called Avalanche or Cascading reels – just think Gonzo's Quest.
It's a cluster pay too – think Netent's Aloha or Legend of Shangri-la.
The aim of the game is to destroy all the blocks and trigger the free spins.
That doesn't mean it's not fun trying to get there, it's just that that's where the money is of course.
ELEMENTAL TILES FEATURE
Features are triggered by having a win adjacent to an Elemental Tile.
The Elemental tile features are:

Water: 2-5 wild symbols are placed at random positions not already covered by wild symbols or tiles.
Air: A diagonal path of wild symbols is created, starting from the position of the activated elemental tile.
Fire: A number of symbol types present on the play area are all transformed into the same symbol.
Earth: 4-6 blocker tiles are destroyed.

The Water, Air and Earth Elemental tiles always reveal a Wild symbol, while the Fire Elemental Tile always reveal the symbol created by the transformation.
You can get your head around this best by thinking Rise of Olympus or Moon Princess from Play n Go..
WATER
Wild symbols are randomly placed on the grid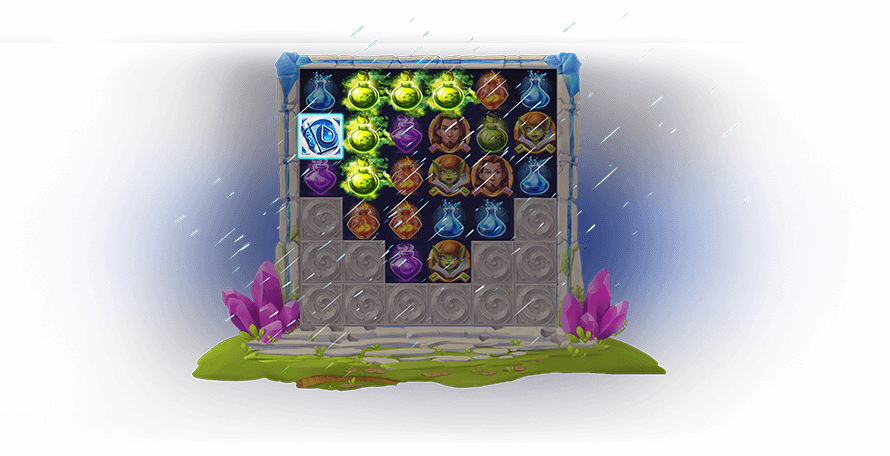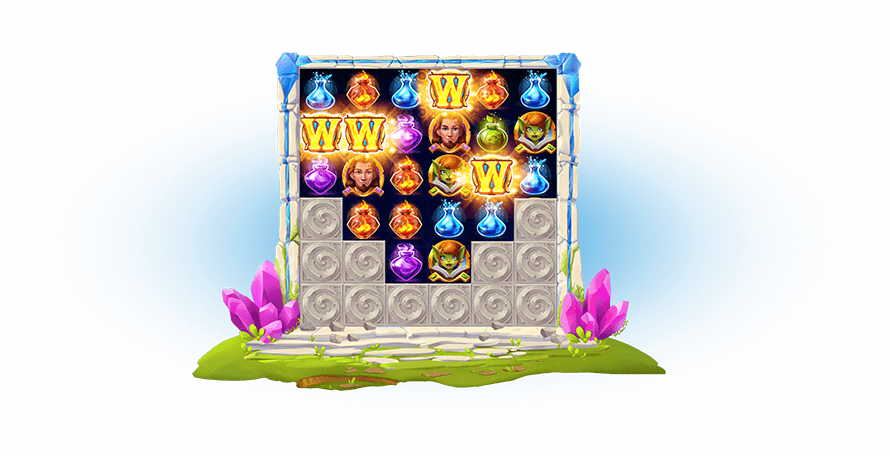 AIR
Wilds will appear in a diagonal streak across the reels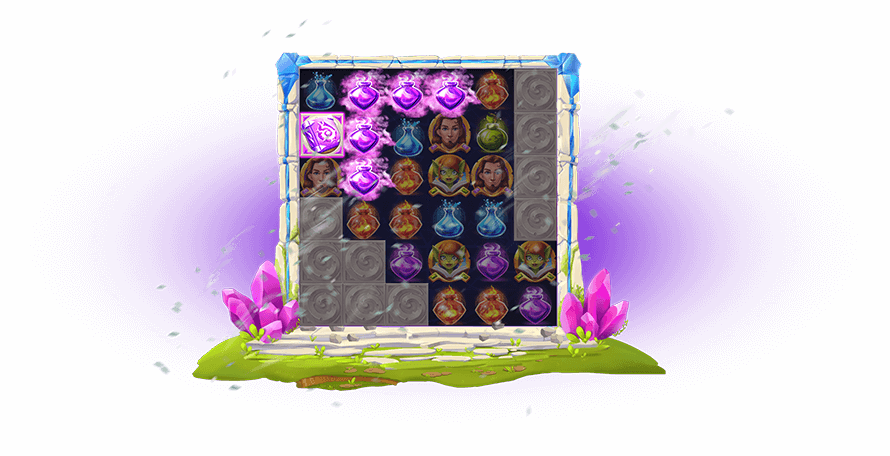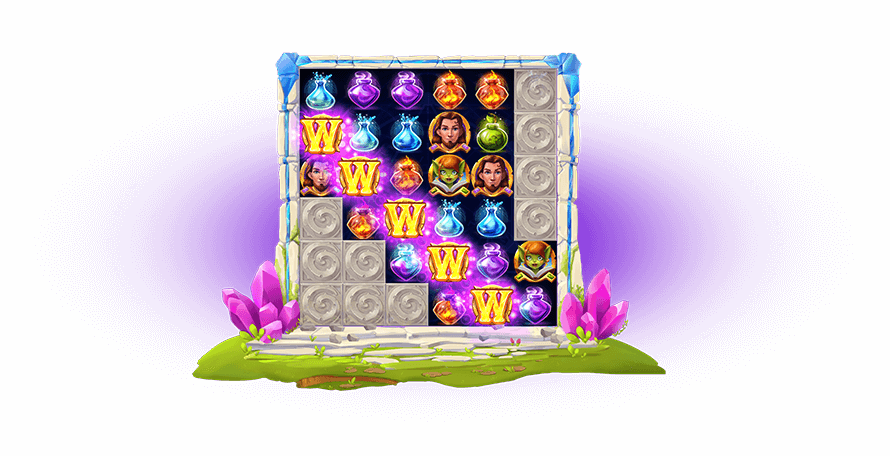 FIRE
At least one symbol type is transformed to another symbol, creating more of the new symbol for enhanced wins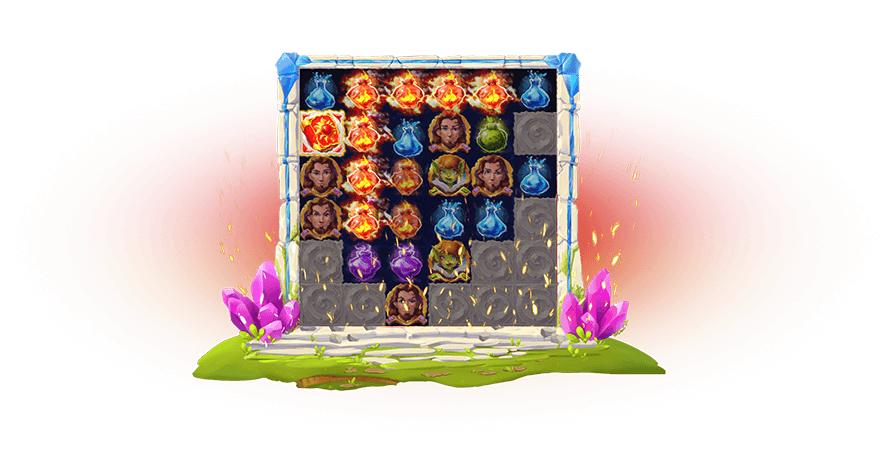 EARTH
A random number of blocker tiles are destroyed across the reels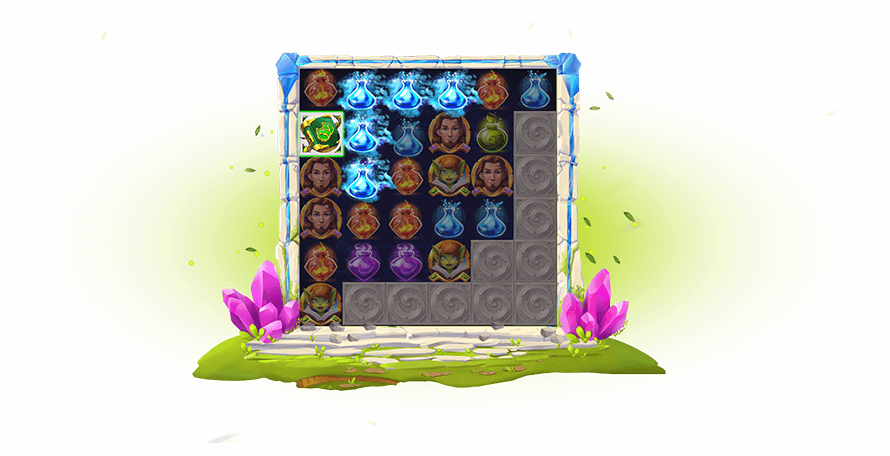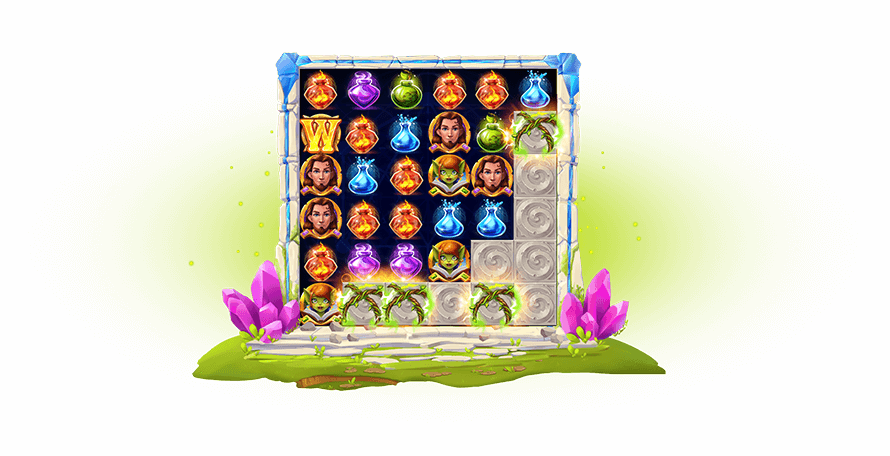 It has to be said that even with the modifiers kicking in you're still going to have to get used to seeing this…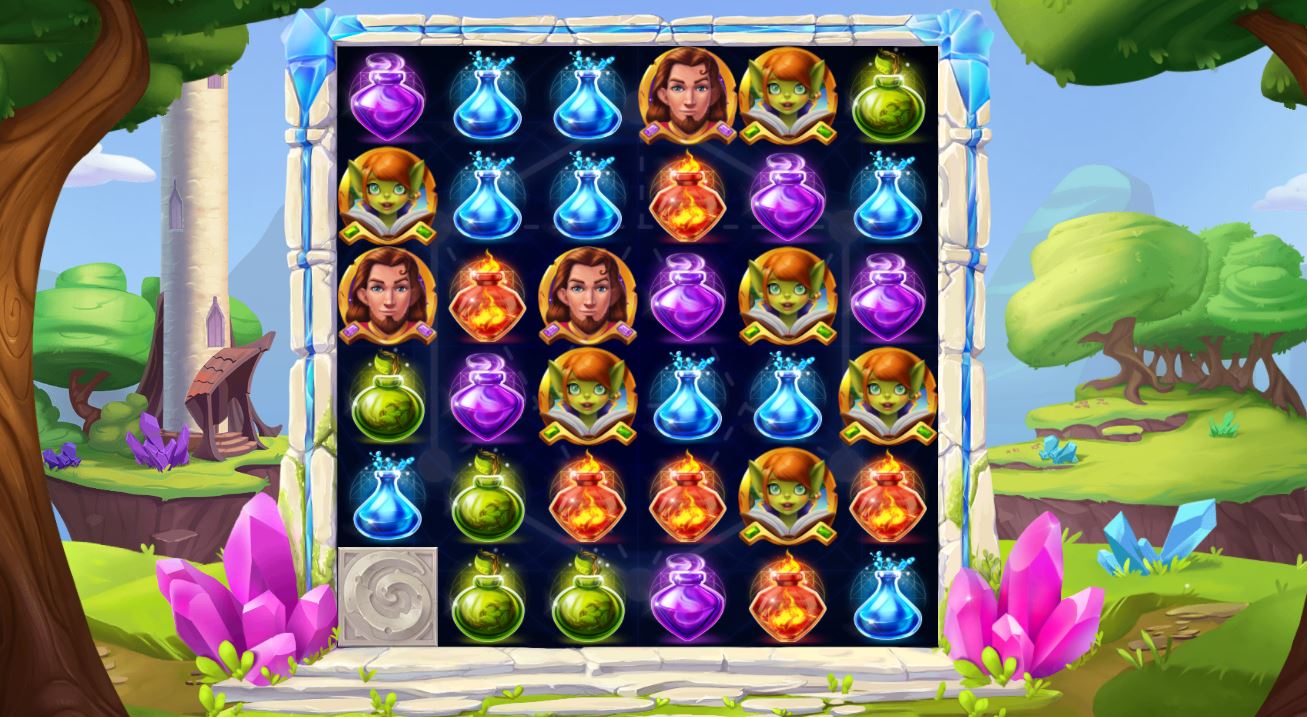 It's exciting getting there at times though and the base can bring in some sizeable results as the blocks explode.
Stick with it anyway because you're going to make it to the free spins and it's another level.
In the free spins destroyed blocks stay destroyed so you get a bit of revenge – unless you're ridiculously unlucky…
TOWER TUMBLE FREE SPINS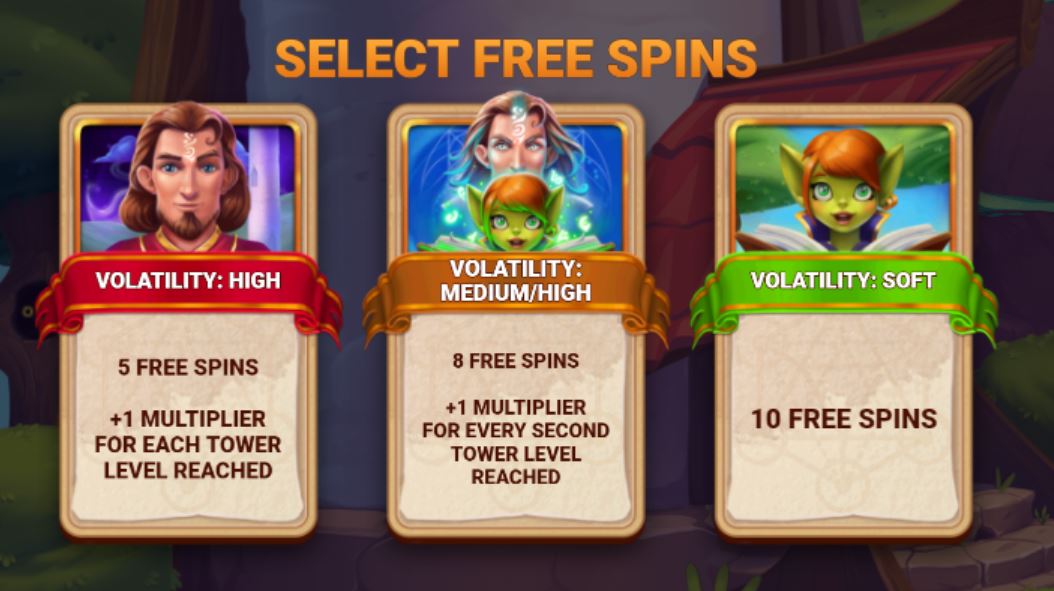 If all stone tiles in the main game are destroyed, you'll get the free spins.
There are three choices
ADDED MULTIPLIERS
You'll kick off with 5 Free Spins. Clearing all the tiles will progress you to the next Tower Level.
Reaching a new Tower Level increases the win multiplier and resets the spins to 5.
ADDED MULTIPLIERS & EXTRA SPINS
Starting with 8 Free Spins. Clearing all tiles progresses you to the next Tower Level.
Every second new Tower Level will increase the win multiplier and every new Tower level will reset the spin count to 8.
EXTRA SPINS
Start with 10 Free Spins. Clearing all wooden tiles progresses you to the next Tower Level.
Free spins start at level 1, with 20 tiles placed at all positions along the edges of the game board.

Between 1 and 6 of the tiles are Elemental tiles; the remaining 14-19 are blocker tiles.

Elemental tiles act in exactly the same way as in the main game.

Destroying all the tiles will send you through to the next Tower Level.

Whenever you hit a new level, both the tiles and the number of remaining spins are reset.

If you (wisely) chose the Added multiplier option, a multiplier applied to all wins is increased by +1 for each level.

In the Added multiplier & Extra Spins option, a multiplier applied to all wins is increased by +1 for every second level.

In the Extra Spins option, there is no multiplier.
Which should you choose?
Depends on your taste for volatility. If you take the 10  free spins though you need to look in the mirror.
This is probably the most exciting bonus round I've ever had the pleasure of playing.
I adore Sweet bonanza's bonus round and this is right up there for me.
You have to take the time to get to this – and let's be honest it's not exactly a chore with the way this game plays.
Tower Tumble – Conclusion
This is a really nice game and a great inclusion for the Tumble series from relax.
In fact it's a brilliant game.
The design makes it much easier to spend a lot of time with than Temple Tumble. At least for my tastes.
They've taken all the elements of the best grid slots out there and enhanced them.
It's fun in the base game and in the free spins and you can't say that for many games.
Give it a go in the free demo at the top of this review.
Top work from Relax Gaming!
Our first ever 5/5 review.
Play Tower Tumble at
Double Up or Cash back! Risk Free!

New Casino
No Wagering on Level-up Rewards
Great selection of Games & Bonuses

Casino Review Claim Bonus

100% Bonus and 200 Free Spins

New casino with great bonuses
Level up and get rewarded
Fresh design and a good selection of slots

Casino Review Claim Bonus