Review and Demo Play of Valletta MegaWays Online Slot from Blueprint Gaming
Valletta MegaWays is one of Blueprint Gaming's numerous MegaWays releases this year. This Online Slots offers 15625 ways to win, at an RTP of 96.45%.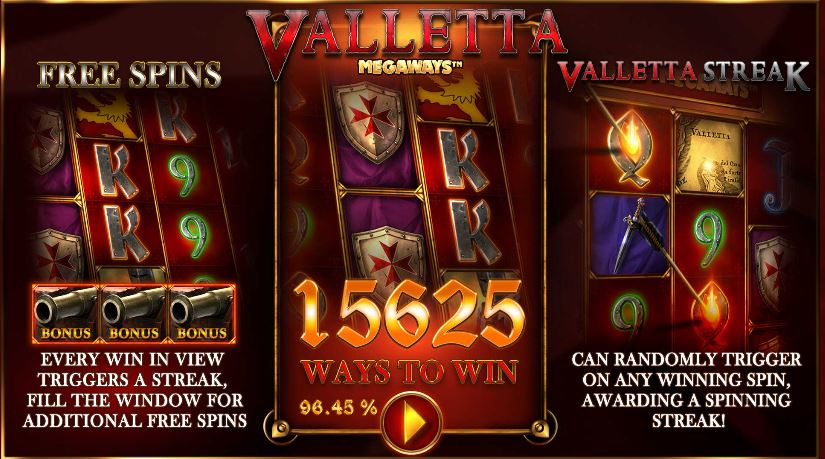 The 15625 ways to win is no doubt in reference to the Great Siege of Malta which took place in "the year of our lord", 1565. The siege of Malta was when the Ottoman Empire in the mid+16th century tried to invade the Island of Malta. This island was help by the Knights Hospitaller, who organized the defense with slightly more than 6000 troops and 9000 civilians, against the estimated 35 – 40 000 men strong Ottoman army.
The Siege lasted three months, three weeks and tre days. One wonder how significant this number was for the heavily Catholic defenders, as 333 is 666 divided by two. None the less, the Catholics managed to defend and hold Malta, and now, almost 500 years later, we can relive this hardship faced by the Maltese in this exciting slot from Blueprint. If this slot is received well, maybe the sequel will be the Siege of Malta in World War 2. Then again, maybe we will have to wait 500 years before that is politically correct.
Symbols and Paytable
Valletta MegaWays features twelve different symbols, starting with the Lion from the Crusader Coat of Arms, which is worth by far the most. It pays five times more than the Map of Valletta which is the second highest paying symbol. The map is followed by the Crusader Shield and the Dagger. As almost always, and perhaps specially in medieval games, the Royals are present and accounted for. Ace, King, Queen, Jack, Ten and Nine are all present.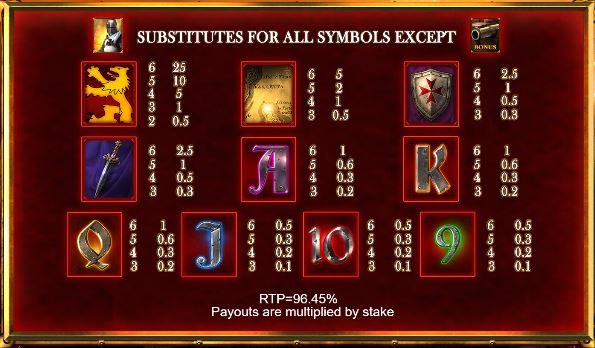 Any win triggers the "Valletta Streak", where the reels keeps re-spinning as long as the more symbols are locked to the Win. This is similar to the Genie Jackpots MegaWays free spins round and also Jack Hammer, the classic game from Netent.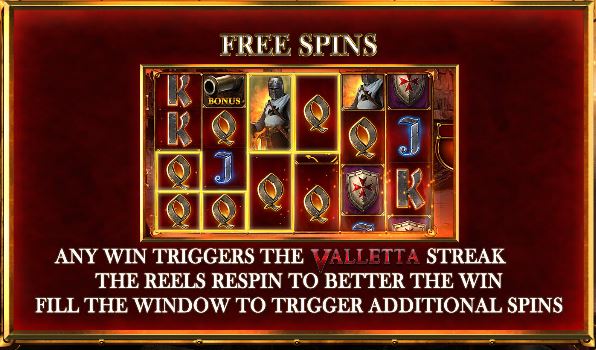 MegaWays and Reel Structure
Valletta MegaWays is built with the trademarked and licensed MegaWays Functionality, invented by Big Time Gaming. In this game, the maximum number of ways to win is set at 15625 and each spin sees a different set of Symbols on each reel. Anywhere between two and seven symbols can stop on each reel, leading to a huge number of ways to win. The winning combinations pay left to right adjacent symbols, regardless of size. Payouts are then multiplied by stake in accordance with the Pay table.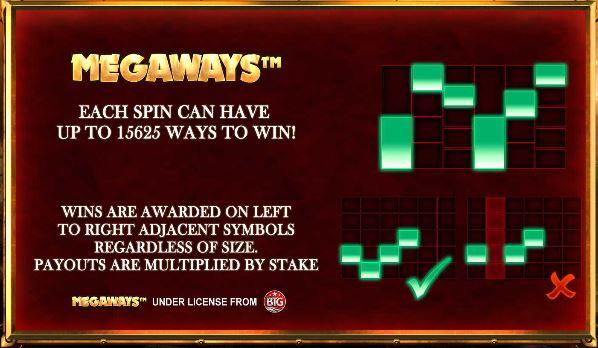 The Valletta MegaWays base game and the Valletta Streak Feature
The base game in this slot is similar to Genie Jackpots MegaWays. The reel structure does not have a horizontal reel on top of the vertical reels, like in many other MegaWays games. This is also not a slot where winning combinations disappear and get replaced by new symbols. What you see is what you get. Instead of the avalanche feature of replacing winning combination, the opposite is done. In other words, any symbols not part of a winning combination will be respun in the Valletta Streak.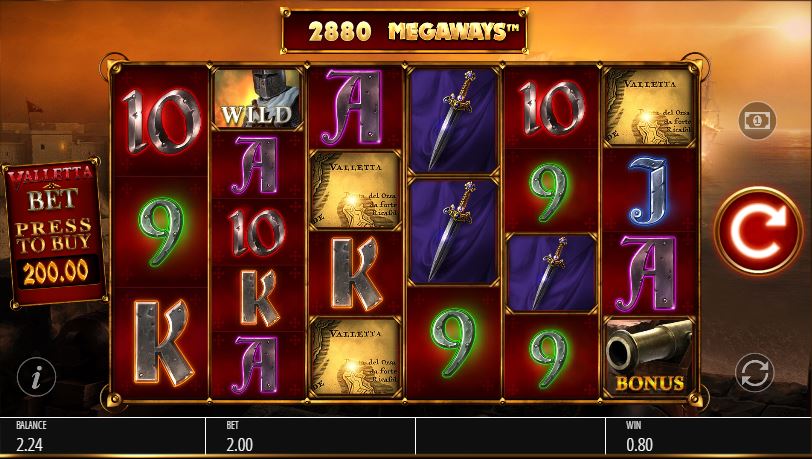 The Valletta Streak starts whenever you hit a winning spin. During the streak, the reels will respin for as long as you expand the winning combination. This is similar to Jack Hammer 2, the sequel to Netent's Jack Hammer, and Genie Jackpots MegaWays from Blueprint. Both are great games you should try out if you haven't. Jack Hammer and Jack Hammer 2 might be getting a bit old now, but Genie Jackpots MegaWays was released this year. It has the same attention to design as Valletta MegaWays and other Blueprint games.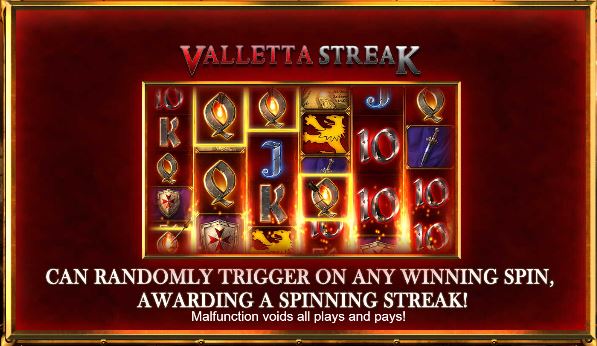 Free Spin Feature
If you get three or more Bonus symbols (the Cannon), the free spins will start. The free spins are not so much different from the base game. The same "locking win with respin"-functionality is present, it is just that winning combinations occur more often in the Free spins. Specially wilds are more common, which obviously leads to more wins.
Often in MegaWays games you hope for many small wins to build up the Free Spin Multiplier before that massive hit comes. However, in Valletta MegaWays free spins feature, there is no Multiplier to increase. Instead each spin is independent and does not affect the value of any future spins during the free spins. In this game, it is more a matter of many small to medium wins occurring and the always present possibility of the big hit.
Buy the Feature
If you find yourself out of luck and just can't manage to get the Free Spins feature the normal way (hitting three or more scatters), then you can always just pay to get into the feature right away. The Bonus Bet guarantees the Free Spins feature will start, only how many free spins you will get is at stake. The bet costs 100 times your stake, so it is not for the faint of heart to buy. The Bonus bet has a slightly higher RTP than playing the game normally. This is set to 97.00% return to player.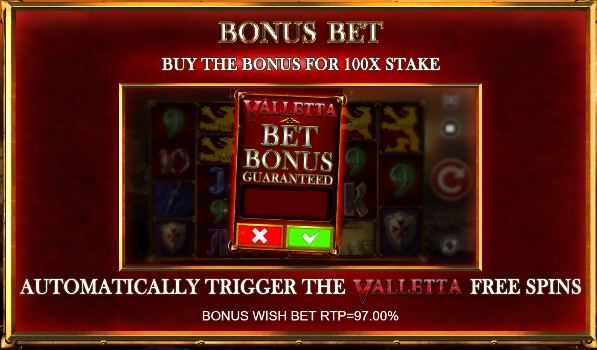 Conclusion
Valletta MegaWays is a well designed slot from the Blueprint gaming team. What it makes up for in Design, it lacks in feature and game play feeling. The free spins round is dragged out as almost every spin leads to a respin. However, it seems quite hard to get any sort of immense win, and you usually end up with around 20-200x from the free spins feature.
We give this slot a 3.5 out of 5. Blueprint has done a lot better MegaWays slots, such as Wolf Legends MegaWays and Buffalo Rising MegaWays.
What to check out next at Slotmad!
If you like to play (or watch) slots and enjoy discussing all sorts including the state of the latest slot releases etc then join in with us on twitch. We'd definitely love to have you along.
Find out more here:
Take a look at the info on our Casino Stream page
Check out some more of our News and Review of other Red Tiger Gaming slots:
Want to see even more Megaways slots? Check out our Megaways page.

Play Valletta MegaWays at
100% Welcome Bonus

Gamified casino with great offers
Play 6 times faster with Blitz Mode
Unique Loyalty Program

Casino Review Claim Bonus

200% Bonus + 100 Free Spins

Casino, Live Casino and Sports
Triple your first deposit
No wagering on free spins

Casino Review Claim Bonus