Vikings Online Slot from Netent – Review, Mega Win Video and Free to Play
Netent has created a masterpiece in the Vikings Online Slot. They transport us to the brutal and mysterious world of Ragnar Lothbrok, a Viking warrior and farmer who yearns to explore – and raid – the distant shores across the ocean. The world's favorite raiders are back with a vengeance in Vikings Video Slot. You have probably seen these Vikings before. The HISTORY® TV series has been a worldwide hit with viewers since it premiered in 2013 and now it is time for us Slot players to enjoy it even more. These Vikings are bad to the bone and tough as old boots. What's not to love?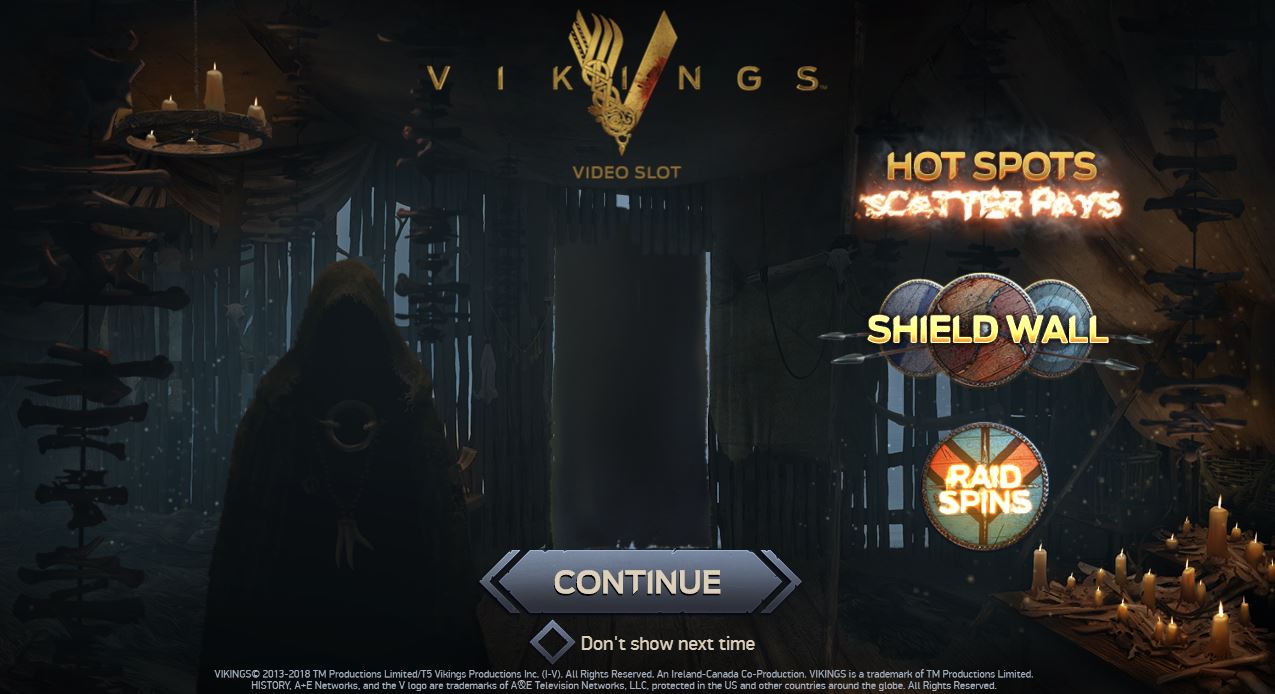 Our take on the world of these rampaging raiders is a 5-reel, 3-row, 243 betways video slot featuring Hotspot Feature, Shield Wall Feature, Raid Spins symbol and Raid Spins mode including 3 Hotspots. In Raid Spins the excitement gets ramped up even more with the game changing to a 7-reel, 5-row, 78 125 betways reel area.
The Vikings Video Slot features the Star characters from the show, including Ragnar Lothbrok (Travis Fimmel), Lagertha (Katheryn Winnick), Floki (Gustaf Skarsgård) and Bjorn Lothbrok (Alexander Ludwig), along with immersive footage and imagery inspired by the historical drama.
In the words of Netent:
"Shields up, form a line, and give it a spin. It's time to raid the reels. Games don't come fiercer than this."
On to the review!
Symbols and Pay Table
The top paying symbol in the Vikings Online Slot it the Viking V. In the Base game, a five in a row of this pays 50 coins, whilst in the Raid Spins feature where you can get up to seven symbols in a row.  This pays 70 coins, so not a huge increase from the five of a kind. The four Vikings, Ragnar Lothbrok, Bjorn Lothbrok, Lagertha and Floki, all pay the same amount for three, four, five, six or seven of a kind.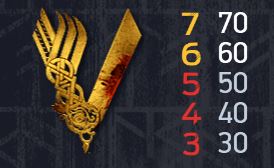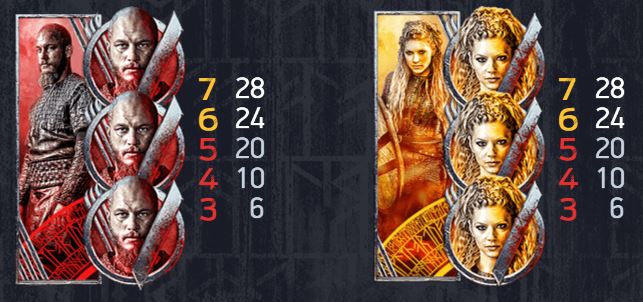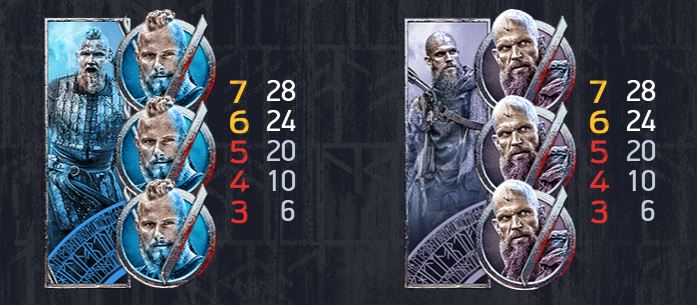 We are somewhat surprised to find our beloved Royals being the low paying symbols in this slot. It is normally understood that the Vikings did not have Royal people in the same sense as Southern Europe. However, when they land on the reels for a winning combination, we are not the first to complain.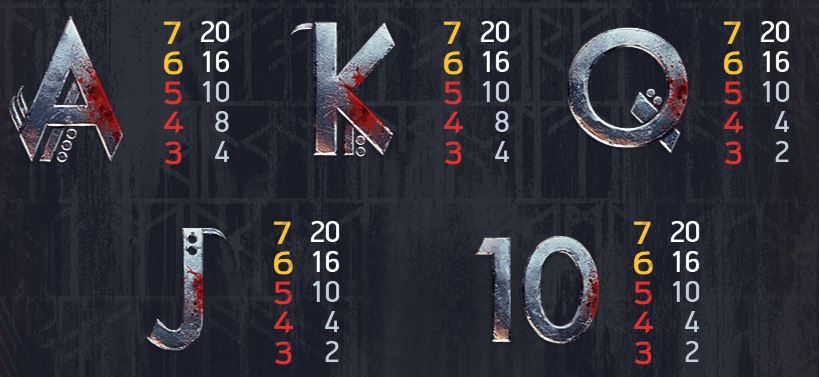 Shield Wall
The Shield Wall feature activates at Random and appears as a cluster of Mystery Symbols covering a random area. The Shields are lowered and one of our Vikings are revealed, and any winning combinations are reevaluated and paid accordingly.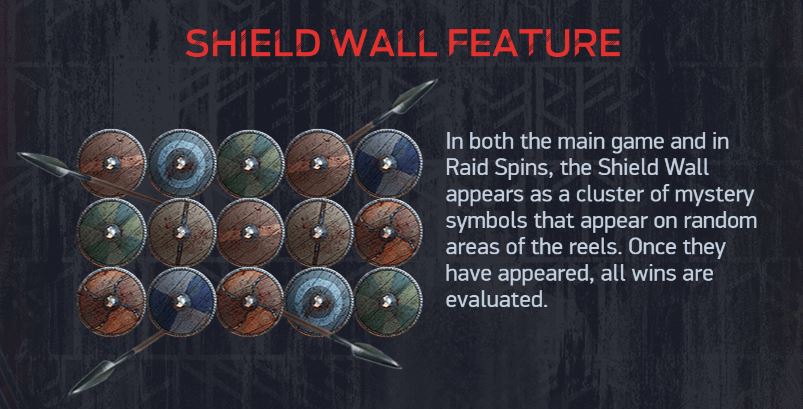 Hot Spot and Scatter Pays
Clearly marked on the reels is a lit up "Hotspot" area. If a fully stacked Viking symbol lands completely in the Hot Spot area, it will cause all other Viking symbols to be transformed. They will change into the symbol in the Hotspot area. This also activates the Scatter Pays feature, where instead of paying Line wins for the Viking, it pays scattered. The total number of Vikings on the screen is evaluated and the win is paid accordingly. '
In the base game, there are fifteen symbols shown at any given time. So with a full screen of Vikings, you would get a sweet 4860 coins (243x your stake). However, this is nothing compared to getting the maximum win of 27 Vikings during free spins. This pays an insane 200 000 coins (10 000 times your stake). We don't think we will be hitting that any time soon, but we did hit a massive 745 win. You can see the clip at the bottom of this review.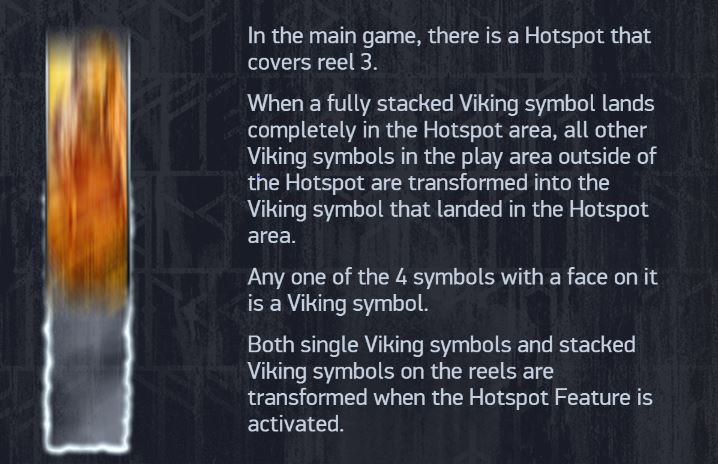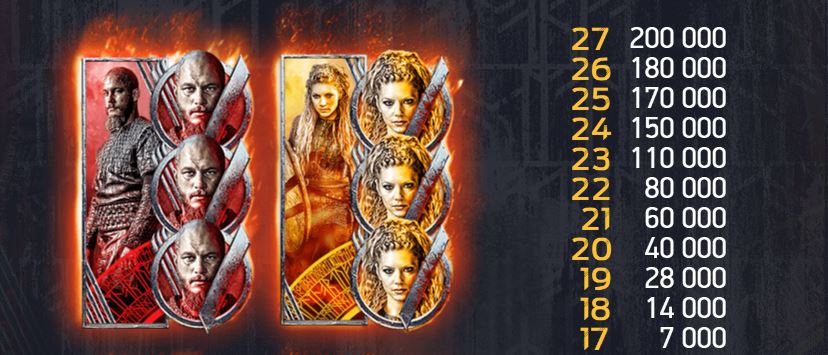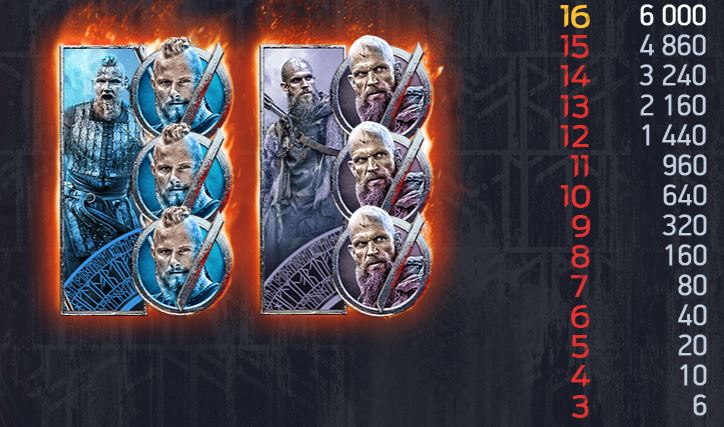 Vikings Base Game
The base game in the Vikings Online Slot is, outside of the Hotspot area and Scatters Pays explained above, a pretty standard 20 line slot with 5×3 reels. To win big in the base game, you normally have to get a nice Shield Wall in a good position. Either that or get a full Viking in the Hotspot area and loads of transforming symbols. Normal lines will not pay a lot, and any wins with the Royals only serve to help you fight another day.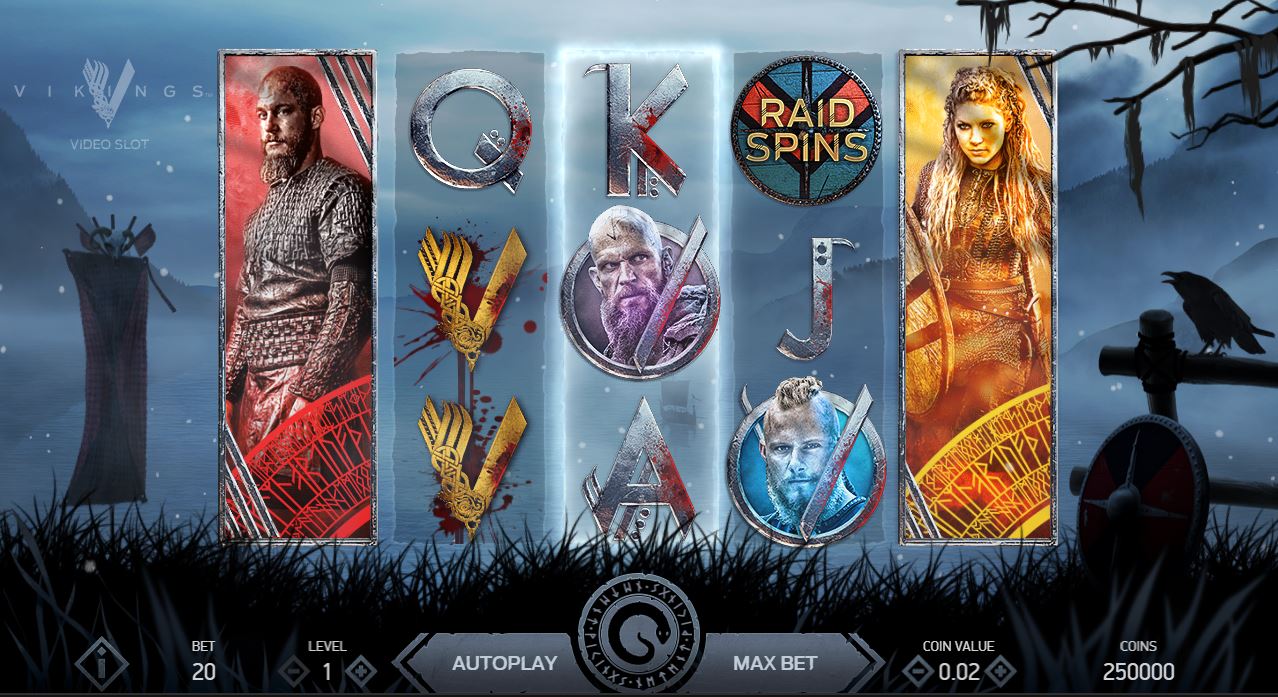 A small and kind of quirky thing to notice is the Runic letters on the Spin button. We had our inhouse Norse expert translate the runes for us. He came up with the excerpt "WIKINGS NETENT WIKINS NETENT". What a sneaky and fun little Easter egg put in by Netent.
Vikings Raid Spins Feature
The Raid Spins Feature in Vikings from Netent starts when you hit three Scatter symbols on reel three, four and five. The scatters only appear on these reels, and it is not possible to get more than three scatters. When the raid spins start, the reels expands from a 5×3 structure to a 7×5 all ways pay (78 125 ways in total). The Hotspot area expands as well, from covering only one vertical set of three symbols, to coverin a 3 by 3 block.

With the massive amount of ways to win and the large hotspot area, the stage is set to give you a smashing win. For the next spins, everything is about getting a fully stacked viking to land in the hotspot area. If this happens, you know it is going to be atleast a good win, but hopefully great or even mega.

Mega Win Video of 745x on Vikings
We have had our fair share of good runs and bad runs on Vikings from Netent. During our Bonus Hunts on Stream this is a game we often come back to, but the below clip was not from one of the bonus hunts. In this clip, we managed to get 18 of the Red Ragnar Lothbrok, and boy did it pay. Over 745 times our stake was what the total win ended on.'
Enjoy this video, and check below what to do next at Slotmad.
What to do next at Slotmad!
If you like to play (or watch) slots and enjoy discussing all sorts including the state of the latest slot releases etc then join in with us on twitch. We'd definitely love to have you along.
Find out more here:
Take a look at the info on our Casino Stream page
Check out some more of our News and Review of other Red Tiger Gaming slots:
Play Vikings at
100% Bonus on first 2 deposits

New and fresh casino
Level-up system for great rewards
Fair wagering requirements

Casino Review Claim Bonus

100% Welcome Bonus

Gamified casino with great offers
Play 6 times faster with Blitz Mode
Unique Loyalty Program

Casino Review Claim Bonus