Volatile slot – Golden Rock – slot review and Play for free.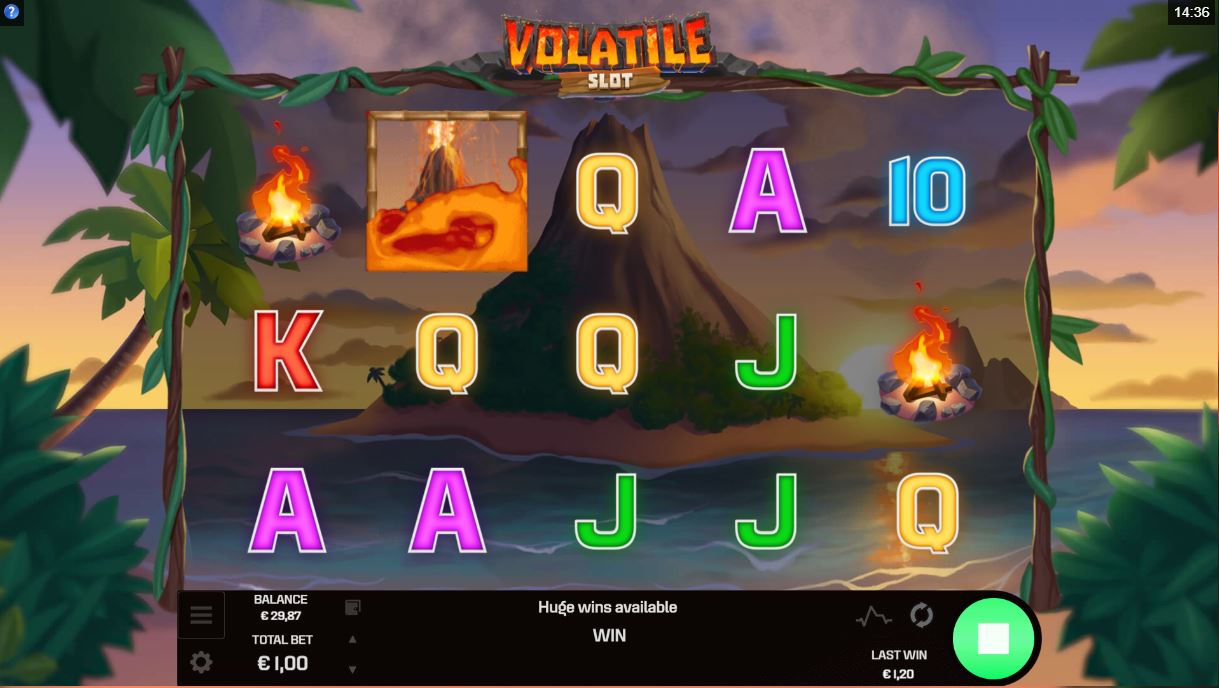 Volatile slot is true to its title but is it any good?
Golden Rock's debut wide release is an interesting one.
The literal naming is interesting, I like it. It's going to cause a few raised eyebrows no doubt.
The game is set against the backdrop of a volcanic island.
The graphics are, well, there are graphics. The symbols are very basically drawn and I think they could have made a bit more of an effort on them, especially for a new studio.
I'm sure it was a conscious decision to make them minimalist, in keeping with the style/name.
The reels all spin and settle nicely though and they've included an old-school landbased ticker with the spins.
'Winner, Winner', 'Boom Boom Boom' etc. I like that touch. 'Wow what a win' for a 20% of stake return after a barren run of spins can get a bit tilting though.
There's not much happening in the base game.
There's a wild multiplier (random, not all wilds are modified).
base game wins are few and far between, as you'd expect. This is all about hitting the bonus round.
The oh so elusive bonus round.
The Volatile Slot bonus round
Land a Wild on reels 2, 3 and 4 and you'll get 10 free spins.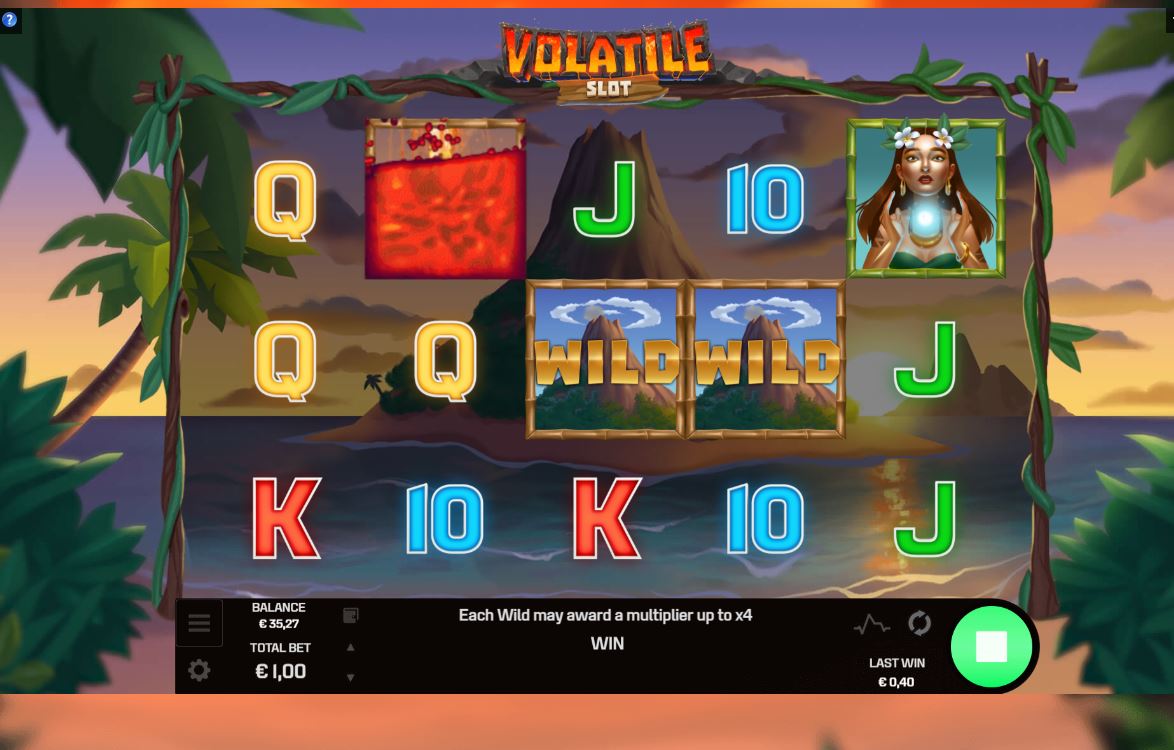 This plays like the base game but with the addition of additional wilds and more frequent multipliers on wins. You can get up to 64x on a single win.
It's still the Volatile Slot though remember so you're going to bomb out of this with very little a fair bit of the time.
Luckily…
There's a Bonus Guarantee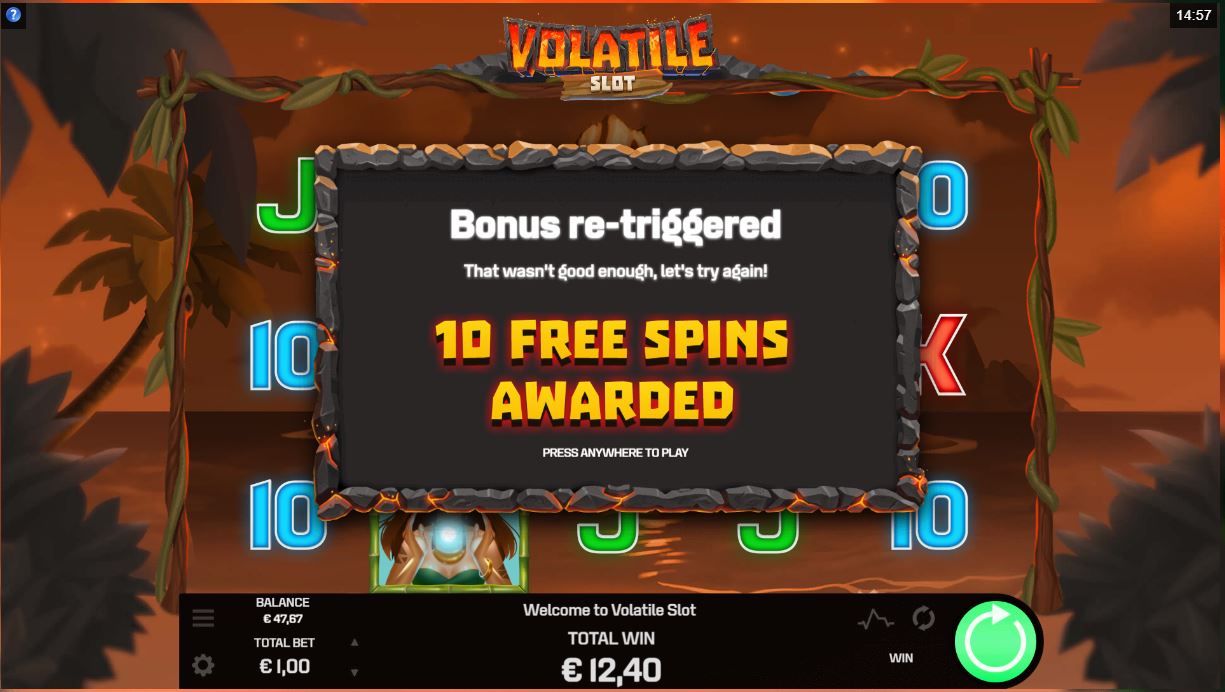 This retriggers you with another 10 free spins if you fail to hit the minimum guarantee threshold which seems to be at 20x.
There is a level of excitement in the bonus round due to the potential multipliers but again you need to see wins in order to make the multiplier valuable – and that's where you'll need to be among the lucky ones.
It can obviously pay massively. But you'll need a bankroll and some never to get close to it unless the slot gods are with you.
Volatile Slot – Conclusion
I love volatile slots. I play very little else.
The thing is they need to be entertaining too. if I just want volatility I'll bang my money on cryptocurrency.
There's no fun in the base game here unfortunately.
I think that's the pay off for having a whopping 25000x+ top payout.
I chased the game for the sake of reviewing it and I couldn't get to a point where it even looked like keeping my bankroll going long enough to see some excitement.
That's just not going bring me back when there are slots that are hugely volatile but also fun.
This isn't a flaw in design, it's exactly what Golden Rock intended of course.
A nice debut, good thinking abut this isn't the one that's going to lead to a breakthrough I'm afraid.
Our rating is still a very solid 4.0 which reflects the fact that this is aimed at a particular type of player and it has a good chance of getting them playing, repeatedly
It'll only take a big streamer to smash the top pay on this and it'll go viral.
I am excited for the future roadmap cos the lads behind these lads certainly know what they're doing.
If you like this one we think you'll enjoy
Play Volatile Slot at
100% Welcome Bonus and 200 Free Spins

Reel Races running every day
Bonus on first 5 deposits
Fair wagering requirement

Casino Review Claim Bonus

100% Bonus on first deposit

Daily promotions
Over 1500 Casino Games
Launched in 2002

Casino Review Claim Bonus