Wild Cauldron – Quickspin – Review & fun play
An UnPhiltered slot review from Phil Pearson.
I'm not going to lie, I wasn't looking forward to this game.
Quickspin started, as we know, by making low volatility slots apparently for children, based on fairy tales and random folklore, and progressed to making games for teenagers about slightly more adult folklore.
When a twilight game comes out I will know exactly who made it. However recently they turned off to one side, a more volatile side, like an uncle that reads you stories then all of a sudden takes you to a strip club and gives you 10 euros and says "go nuts". Ahhh filthy uncle Dave.
Recently Quickspin has gone down the model of mixing in some good new releases with some clones, similar to everyone else, but this one struck me as something that could be an interesting game. I had faith, similar to my religious beliefs, so I had faith in that I knew nothing and was going to be disappointed.
Wild Cauldron – The game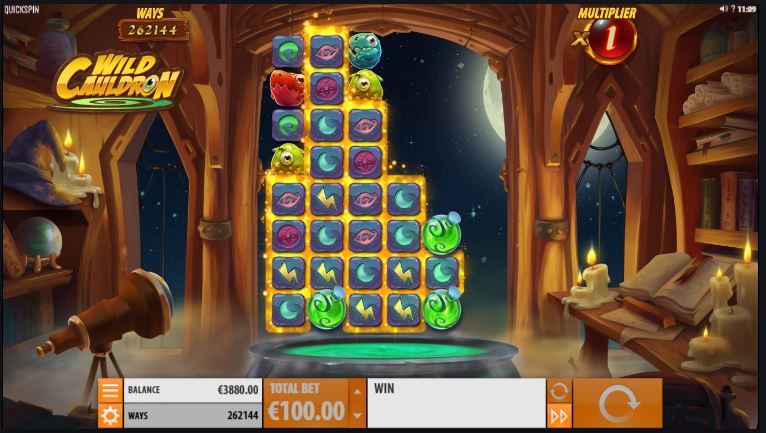 Wild Cauldron looks like a mix between a fairy tale and one of many dragon based games.
It's not a horrible looking game, Quickspin is always colourful and sounds good, but its nothing to write home about. 
The interest in this game comes from the game grid. It starts out as a 6×3 grid, with dropping down symbols forming a win, and then a new drop-down occurs but the reels expand by 1 vertically, going to 4×6, all the way to 8×6 if you are lucky enough to get a few mins.
Spoiler – you usually are. This game expands more than Uncle Dave on our aforementioned trips.
The main difference between this game and the other similar expanding grid games is the win-mechanic. On Elk games the winning symbols are removed, on BTG its similar, this is the first game (That I can think of at least), where the winning symbols stick around and then the reels expand.
You can technically get some insane wins int he base game on this slot just from filling 20% of the screen with the same symbols. On top of that, wilds increase the multiplier for the spin.
Each wild adds a x1 to the overall multiplier, so the wins can go up fast.
 I honestly really love the base game of this slot.
This twist to expanding reels is great, and I have played this game a few times since it came out and at no point was I bored.
Which is impressive.
The bonus is a standard "bonanza" style trigger. 4 scatters is 8 spins, with 2 more spins per extra scatter. I believe the maximum is 6 scatters for 12 spins. Doesn't sound like a lot? Yeah, that's what she said.
But then you see what the bonus does and it kind of makes up for it. Each wild again adds to the multiplier but it's sticky. So by the last spin, you could be on a large payout for a smaller win.
2 scatter symbols is a retrigger in the bonus, so it's not too hard to activate. Most importantly, the reels expand and stay expanded. None of this building from 4×6 every spin, if you get it to 8×6 it stays there for the rest of the bonus.
What's more it doesn't seem to Deadspin you to death with 3 spins left once you have a good set up. I've had 10 bonuses, all paid over 50x, with 2 paying over 500x.
One was a red dragon away from about 5,000x. Being welsh I felt this was unfair, dragons are our creatures.
Wild Cauldron – Conclusion
Well, I loved this slot. It's original enough to be fun, but also follows the right amount of "what makes grid/expanding reel games work" to be fun.
Thematically it's mediocre, but the gameplay and volatility/variance makes up for it enough to be enjoyable and thrilling on most spins.
It's not like me to love a game by Quickspin, I find them either poor or decent quality, but this takes the journey they are on to a whole new level. I really hope this game does well for them as the idea and fun of playing it makes it worth it.
It would be a perfect score if the theming was a bit better, graphics on the symbols could be more "advanced", and it didn't remind me of my uncle (Sit on my lap Tuesdays still haunt me), but it is a very solid release and I still play it after reviewing it.
You'll find more of Phil's entertaining and forthright reviews here on Slotmad and you can read them hot off the metaphorical press over at IGP.
If you like this you may like
Play Wild Cauldron at
Double Up or Cash back! Risk Free!

New Casino
No Wagering on Level-up Rewards
Great selection of Games & Bonuses

Casino Review Claim Bonus

100% Welcome Bonus

Gamified casino with great offers
Play 6 times faster with Blitz Mode
Unique Loyalty Program

Casino Review Claim Bonus