Wild Tome of the Woods – Quickspin – slot review and play for free.
So it  begins.
The second 'Tome' game  in as many months.
Nice to get away from the word 'book' for a while at least.
Quickspin's latest is of course beautifully presented and polished.
The game takes place in a fantasy forest. Actually it's a real forest – Whittlewood Forest to be exact.
There's a whole backstory to the game, always nice to see.
Wild Tome of the Woods – setting
This  game  is set  in Whittlewood Forest, a former medieval hunting ground  in Northamptonshire, where  a reclusive wizard named Tom lives.
But all his friends – the  half -frog/half-newt  Crikey,  the  fox Sylvester the 3rd,  and  the  posh  owl from  Oxford  named  Eleanor ­ call him  Middy  (short  for Midas)  due  to  his  life-long obsession  of trying  to  turn  things  into  gold.
Now his Wild  Tome  has  started  to turn  random  things  into  gold instead  (including  the  wizard's  friends)!
So why  not  take  advantage of the  situation  and  grab  some  gold for yourself?
For the chance to win BIG, fill the entire grid with  Wilds  to  get  the  All  Wilds  Win!
Wild Tome of the Woods  game features:
WILD TOME
Any 
Wild Tome
 symbols appearing on the reels reveals one of the other symbols. Every position where the revealed symbol appears is transformed into a Wild symbol. The final transformation may reveal an additional 
Wild Tome
 instead.
ALL WILDS WIN
Filling the entire grid with Wilds triggers the All Wilds Win feature, paying 1000x bet.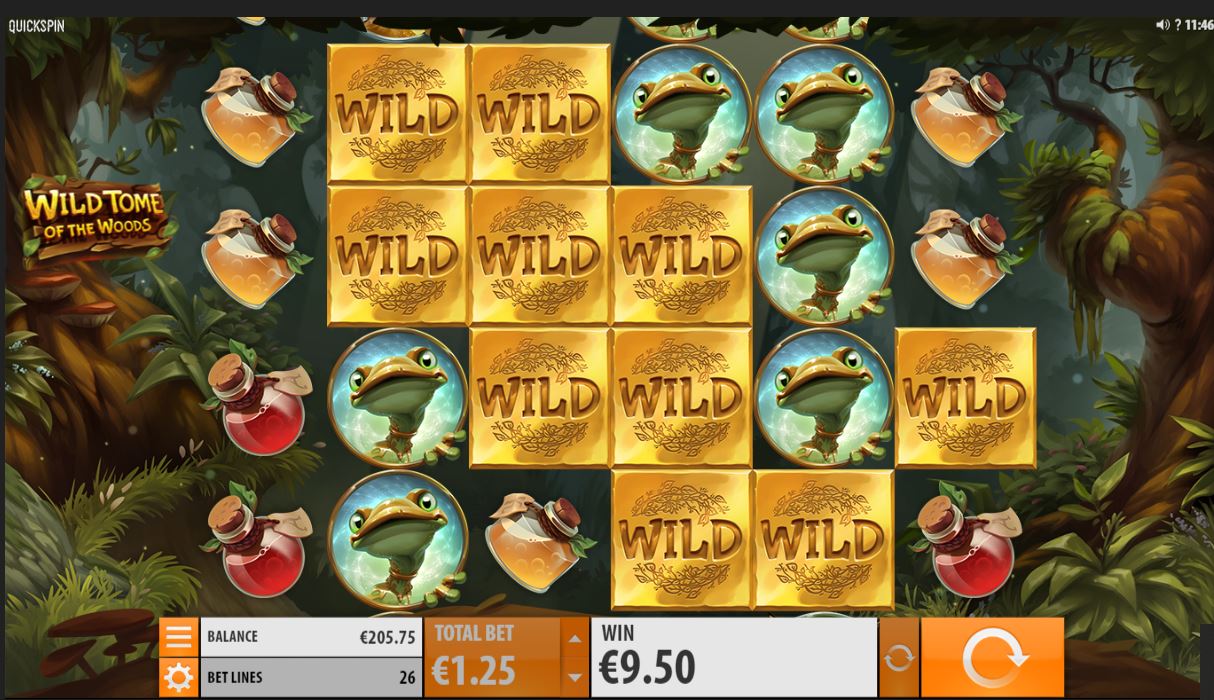 Wild Tome of the Woods – Summary
The game is high volatility. It doesn't feel it to be honest you'll get a lot of smaller wins, it's not an all-or-nothing game.
In initial plays I hit the books about one in every 25 spins. That's only on 200 spins so I'll be back to update the review.
The game is definitely going  to be played. I fear that the big payout is missing, something we lamented in Sticky Bandits 2 recently.
Quickspin seem to be ploughing their own furrow amid a host of massively volatile monsters.
It's a good idea and a good way to differentiate their games. If it is a strategy of course and not  just a coincidence based on the roadmap.
Hopefully we'll get a big win video to post here soon.
We'll be playing Wild Tome of the Woods on our casino stream.
To join us in our streaming adventures and chat with like-minded slots fans you'll find us via
Why not try out some more Quickspin games?
Play Wild Tome of the Woods at